Find resources for ministry. InterVarsity Staff log in to see the full collection. Can't find what you're looking for? Email us.



Proxe Panels

SIZES: 40''x60'' ($30), 30''x 40''($15) priced per panel. TO ORDER: Staff Store. Email graphics@intervarsity.org with specific customizations, early orders. Heavily-customized ideas welcome before Aug 1, in a given school year. (four circles can be replaced with bridge diagram upon request.)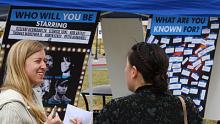 TEACHING & TRAINING MATERIALS
SET-UP
PROMOTION
FOLLOW-UP
STUDIES
Horizontal banner for your table. SIZE: 32''x72''(6ft) TO ORDER: Staff Store- note: "Who Will You Be? ". $26 on poly pro, $50 on vinyl. For custom, email graphics@intervarsity.org.