Find resources for ministry. InterVarsity Staff log in to see the full collection. Can't find what you're looking for? Email us.



The Beyond Colorblind Proxe Station is designed as a catalyst for conversations around the Gospel through students' ethnic stories.

Panel 1: Should we just be colorblind? options Panel 2: What is beautiful about your culture? options Panel 3: What is broken about your culture? options Panel 4: John 4 Panel 5: 4 Circles  SIZE: 30"x 40"  ($75) priced per five panel set. TO ORDER: Staff Store.
Hold the complete proxe in your hand! It won't really fit in your pocket but contains the entire proxe to enable conversations anywhere, especially if the display gets crowded.
Jump right into scripture on the quad, using this Beyond Colorblind Insta-GIG with a grafitti inspired graphic novel style.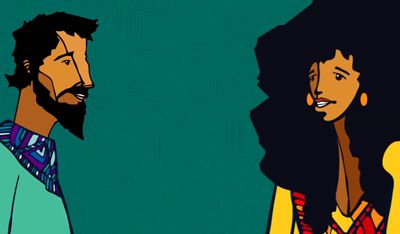 An artistic re-telling of Jesus and the Samaritan woman, from John 4. This works excellently to introduce the Beyond Colorblind campaign at conferences, Large Group, Small Group, or in Gigs. It can also be used with other proxe campaigns (Thirsty or Story Project). It helps any John 4 Bible Study, or related conversation with students.
More
TEACHING AND TRAINING MATERIALS
Beyond Colorblind Proxe Script
Beyond Colorblind Pocket Proxe Script
Beyond Colorblind Insta-GIG Script
Four Circles Gospel
How to Coach a Proxe
Beyond Colorblind (The Book)

This includes Facebook Twitter and Instagram profile pictures, Facebook cover photos and more! (jpgs, .png, .ai, .eps, etc.)
Do it yourself! ... with these Beyond Colorblind visual promo elements, for designing on your own (jpgs, .png, .ai, .eps, etc.)