Find resources for ministry. InterVarsity Staff log in to see the full collection. Can't find what you're looking for? Email us.

Jesus is the great reconciler of all things and all people.  We want to live his calling of racial healing and justice on campus, and we want to proclaim his reconciling power.  The Hope Proxe will help you and your students take steps in doing both of these, God willing.  This has been a creative, collaborative effort between the MultiEthnic, Evangelism, 2100 and Chapter Building Departments.  
Proxe Panels



Panel 1: Our Past  Panel 2: Our Campus  Panel 3: Mark 11:15-19  Panel 3: Four Circles  SIZE: 30"x 40" ($60) priced per four panel set. SIZE: 30"x 40"($60) priced per four panel set. TO ORDER: Staff Store. Email graphics@intervarsity.org with specific customizations, early orders.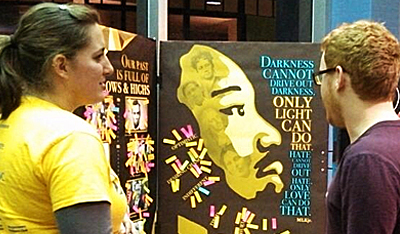 Join the Hope proxe discussion on Facebook.
Printable Panel files are also available to download from
dropbox. Email graphics@intervarsity.org.

View all Hope resources
Teaching and Training Materials
Set-up
Promotion
Studies
Follow-up
Do it yourself! A zipped folder of Hope Proxe visual promo elements, for designing on your own (jpgs, .png, .ai, .eps, etc.)
FRONT: Area to respond and MLK quote  BACK: Mark 11:15-19 & script SIZE: 5"x7"  TO ORDER: InterVarsity Store $5 for 50