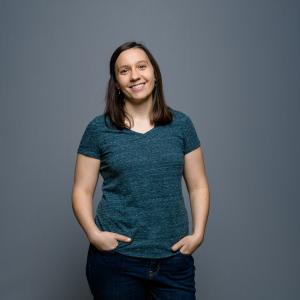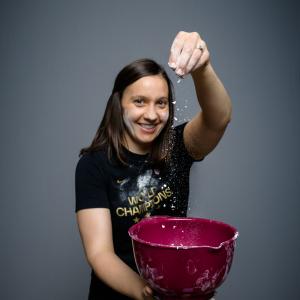 Courtney Herwicz
Art Director
Alma Mater: Illinois Wesleyan University
God used InterVarsity to transform Courtney's life in amazing ways during college, and we're so grateful he did. Not just for her, but also, selfishly, for us: not only do Courtney's stylish designs help communicate and expand God's kingdom, but our team gets to enjoy the delectable baked goods that often magically appear from her kitchen. Who knows if the Great British Bake-Off people will ever recognize her considerable talents, but we sure do.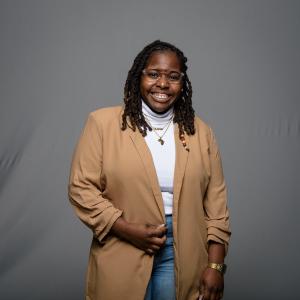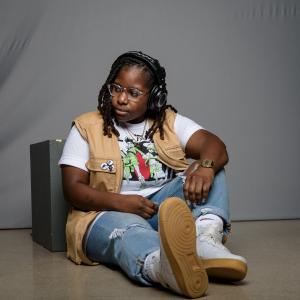 Kadrian Hinton
Associate Producer
Alma Mater: Youngstown State University, Savannah College of Art and Design
Kadrian's multi-faceted (sometimes, it seems, "omni-faceted") skill set makes her a full-on mixed media artist, a creative powerhouse who sets a high bar of excellence on any project she works on—video, graphic design, photography, and everything in between. A former campus staff with an MA from the Savannah College of Art and Design, Kadrian is a Spike Lee super-fan with apex taste in music, the most insightful takes (Digimon > Pokemon, anyone?), and a keen sensitivity for God's work in students and faculty.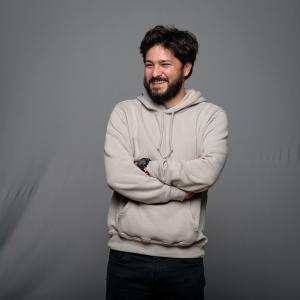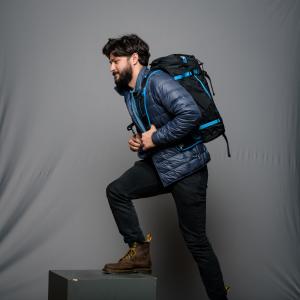 Matthew Baez
Associate Producer
Alma Mater: University of South Florida
Whatever special thing one needs to have to solve a Rubik's cube blindfolded, Matthew's got it. We don't know what "it" is, exactly, but we bet it's also what gives him such a keen eye for visual storytelling. Matthew loves to tell stories, whether it's through filmmaking, 35mm photography, or writing. With 2100, he blends his campus experience (volunteer staff at the University of South Florida) and his talents to help proclaim Jesus on campuses everywhere. His no. 1 Bucket List item is to hike the Pacific Crest Trail—not blindfolded, we hope, but if anyone can do it, it's Matthew.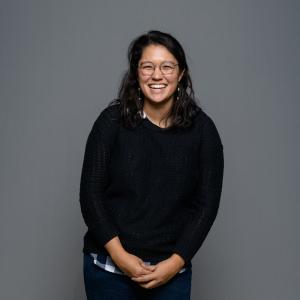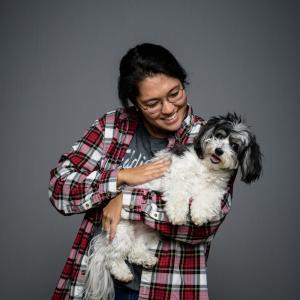 Emily Wrocklage
Associate Producer
Alma Mater: Yale University
Emily is living proof that God can use media to change lives. At Urbana 15, the 2100 videos she saw cut through her suspicion of media and inspired her to become a visual storyteller with a heart to tell stories of God's kingdom on campus. A self-described "2100 groupie," Emily's infectious joy and adorable pup Lucy are both delightful parts of our team. And her compelling, imaginative video projects? We like those too.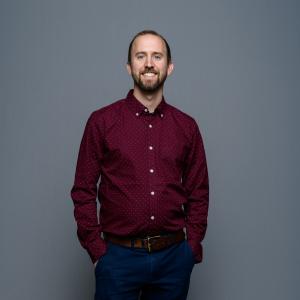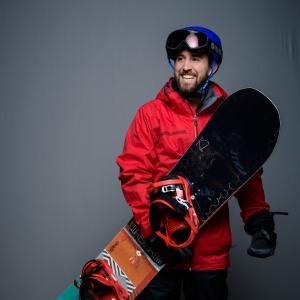 Erik Dunkin
Communications & Operations Manager
Alma Mater: University of Wisconsin-Madison, Trinity International University
Erik's life as a Christian started like many other students' have: with an on-campus Bible study. That experience and love for students launched Erik into a ministry career as a campus staff, college pastor, and church planter. We're grateful for his sharp mind for detail and strategy which keeps 2100's day-to-day operations running efficiently. On the side, he loves to snowboard the peaks of Colorado and keep an eye out for the latest in contemporary fiction.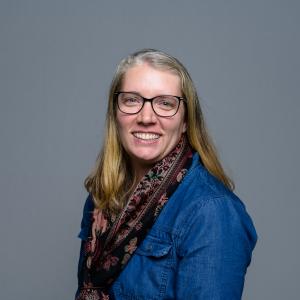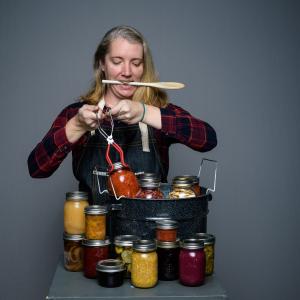 Sarah Kirk
Communications Data Coordinator
Alma Mater: University of California Santa Barbara
In a zombie apocalypse, Sarah's house is our team's go-to: as a top-notch quilter, community garden manager, and canning expert, we'd have everything we need to survive and thrive. When she's not being a mom to Emma and Hannah, Sarah's using her diverse gifts and pastoral heart (developed as campus staff at UC-Santa Barbara) to lead our data analytics work. So do your worst, zombies. Sarah's got our back.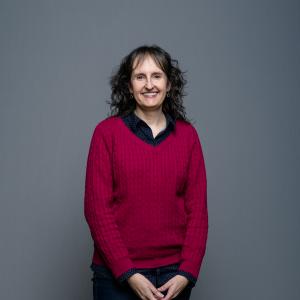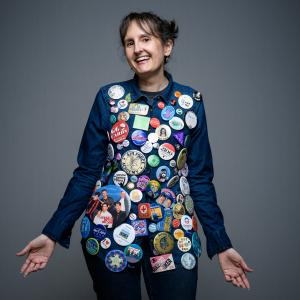 Cory Berkbigler
Communications Project Manager
Alma Mater: Pacific Lutheran University
As a former college rower, Cory was always thinking about the finish line. As Project Manager, she's the same way, stewarding our work from beginning to end, so our creative team can produce materials that share Jesus on campus. Without her organization and production skills, which are as numerous as her flair collection, we'd be lost. But thanks to her Carmen SanDiego-esque childhood (9 schools before turning 18), she'd still probably know where to find us.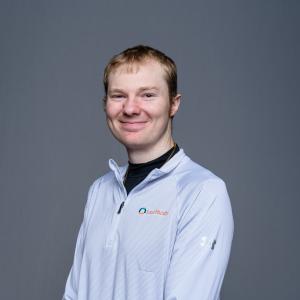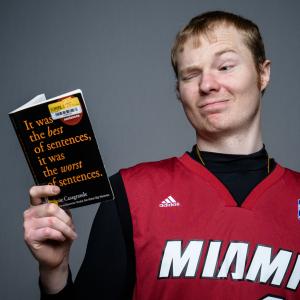 Nathan Peterson
Content Coordinator I
Alma Mater: Trinity International University
From the very beginning, stories have been a significant part of Nathan's life. Writing, reading, watching, drawing—no matter the format or style, Nathan is enthralled by their imaginative power. After two years of teaching English, Nathan decided he'd rather be the storyteller instead and joined InterVarsity as a writer. That's one item crossed off his bucket list, and we hope the others (meet LeBron James and visit The Shire in New Zealand) aren't far behind.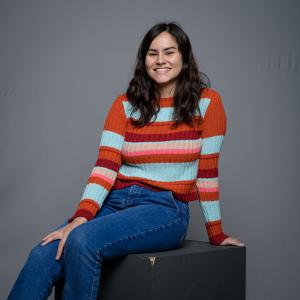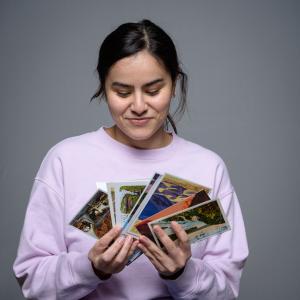 Emily Baez
Content Coordinator I
Alma Mater: University of South Florida
Emily might be the toughest member of the 2100 team. After all, she traded the sunny warmth of Florida for our bitter Wisconsin winters, so you know she's got steel in her spine. But she's got talent to match the toughness, crafting stories and resources that help students and faculty have the same transformative InterVarsity experience she did at the University of South Florida. Emily is obsessed with movies and film, loves tennis, and collects postcards from national parks—so if you ever get a note from Yellowstone that reads like a masterpiece, you'll know who it's from.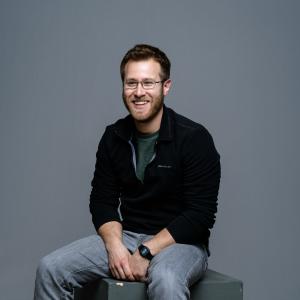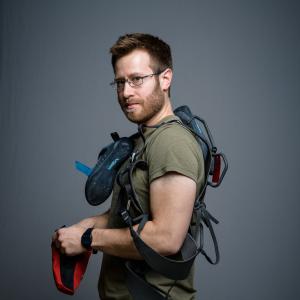 Drew Larson
Content Coordinator II
Alma Mater: Taylor University, Northeastern University
It feels weird to write your own bio, right? But as a writer for 2100, it's projects like this that land right in Drew's wheelhouse. A climbing enthusiast, Studio Ghibli superfan, and part-time seminary student, when he's not wordsmithing for 2100 Drew's most at home on the baseball diamond or indulging his bottomless appetite for rom-coms.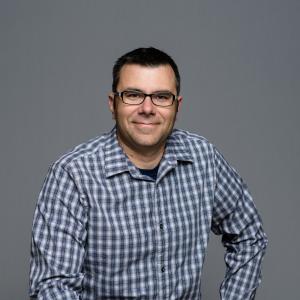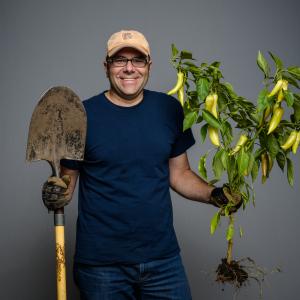 Dan Pinka
Creative Director
Alma Mater: University of Wisconsin-Madison
Once dubbed Glorious Brother Dan while in Nairobi, Kenya, Dan served on InterVarsity Link staff in 1995, providing technical and video support with Eric Miller, the founder of 2100 Productions. Since then his work for 2100 has been so glorious, he now supervises the Production and Design teams. Dan is involved in all aspects of video production and he sets up the tech support for InterVarsity's larger conferences.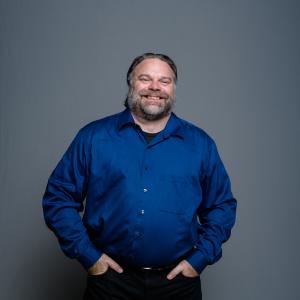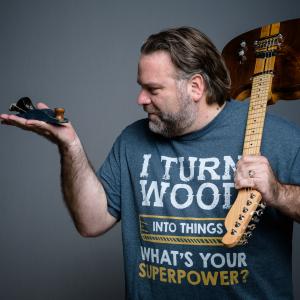 Mark Breneman
Director of Digital Services
Alma Mater: Madison College
When you bring a project to Mark, you know you're placing it in the hands of a master craftsman. Mark takes the same care with his work that he does with his guitar-building and metal-working hobbies and brings the same curiosity that drives his audiobook consumption (50+ per year, mostly business and sci-fi). He's a problem solver/tech aficionado to the bone, and our team is the better for having him.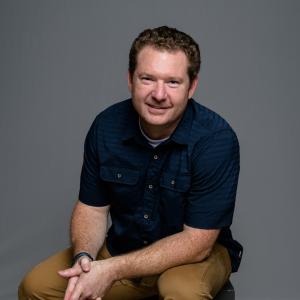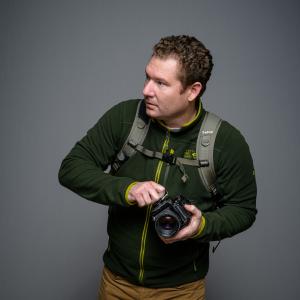 Matt Kirk
Director of Photography
Alma Mater: University of California Santa Barbara
Matt's keen visual sense and eye for the perfect image started as an experiment with photography in college. He tried not to get carried away with his hobby, but (we're happy to say) it carried him away instead—to 2100, where he serves as our Photography Director. An extrovert with an introvert's pastimes, Matt's happy place is a secluded forest and a crackling campfire without a soul in sight.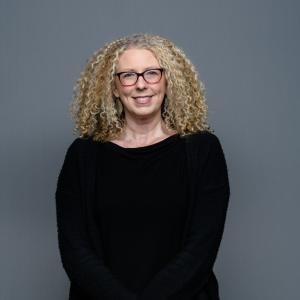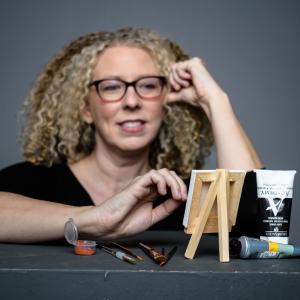 Christy Chappell
Director of Public Relations & Editorial
Alma Mater: Moody Bible Institute, St. John's College
Christy aims to live the good life. For her, this means delving into literature, theology, philosophy, design, home restoration, and deep friendships. It also means serving InterVarsity as Director of Public Relations and Editorial where she leads the messaging and public relations for InterVarsity, and has a chance to demonstrate her love for InterVarsity's mission, values, and people.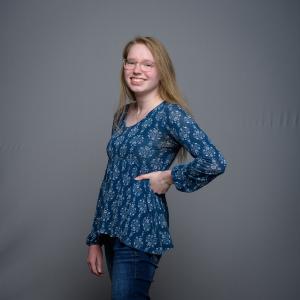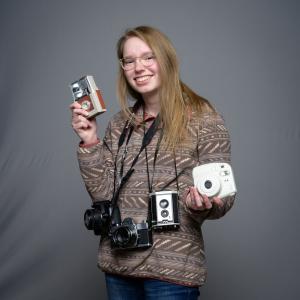 Alice Anderson
Graphic Designer
Alma Mater: Southern Utah University
To be fair, Alice doesn't love Jell-O nearly as much as her home state of Utah—which eats more of it than anywhere else in America. But she does love using visual art to invite students into God's family, which she discovered after hearing the call to pursue graphic design while on an InterVarsity Global Program in Mexico. Whether it's through portrait sessions, making handmade cards, or photographing a special event, Alice's design instincts are rooted in helping people feel seen in community. She radiates warmth, hospitality, and fun in everything she does—a little like, well, Jell-O.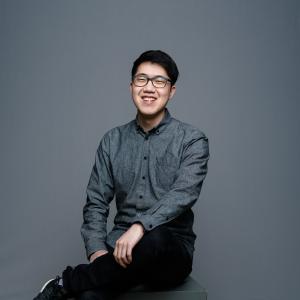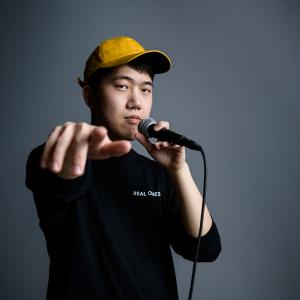 Paul Lee
Graphic Designer I
Alma Mater: University of Wisconsin-Madison
If you're down to have a long chat about the Marvel Cinematic Universe, Korean cooking, or underground hip-hop, Paul's desk is your first stop. While you're there, he can tell you how he met Jesus in his InterVarsity chapter and describe the joy he gets from helping students hear the gospel through his innovative design work. His rap hobby is probably his best-kept secret, but those design talents? They don't stay hidden for long.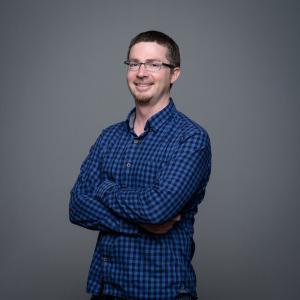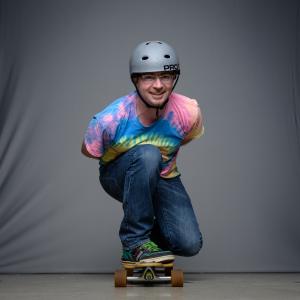 Stephen Braaksma
Junior Web Developer
Alma Mater: University of Illinois Urbana-Champaign, University of Wisconsin-Madison
If one thing defines Stephen's life, it's motion. Whether he's rocketing around on a longboard, hiking the Ice Age trail with his family, or just floating downriver on a raft, Stephen takes everything at some kind of speed. But it's more than that—he moves at the speed of service, from growing up in a missionary family in Kenya, to serving campus with InterVarsity as a student, to volunteering in South Sudan. And now, as a web developer, Stephen builds digital resources and structures whose gospel impact is just like his motor for life: nonstop.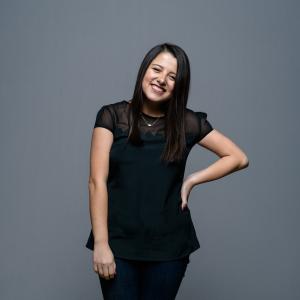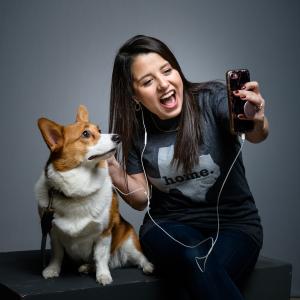 Ashlye Vanderworp
Managing Editor
Alma Mater: University of Texas at Austin
One half of our native Texan team (with husband Steven), Ashlye's MO is energy and delight. She loves college students (she came to faith in our chapter at UT-Austin), and whether it's leading worship, supervising our Editorial Team, or advocating for Latino/a staff, Ashlye's vibrant spirit is never far from the surface. If it involves Disney movies, thrifting, or hanging out with people, you know Ashlye's in her sweet spot.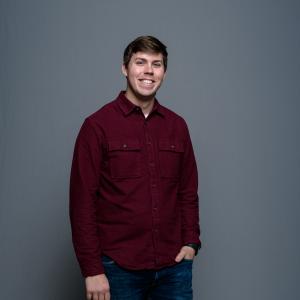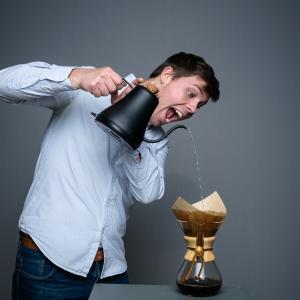 Steven Vanderworp
Producer II
Alma Mater: University of Texas at Austin
Toast with chocolate sprinkles? Steven says it's a magnificent flavor combo. If his taste in breakfast food is anything like his video prowess (or his taste in fine coffee), we'd have to agree. One half of a husband/wife 2100 team (Ashlye leads our Editorial Team), Steven's love for worship, Scripture, and multiethnicity inform every project he produces. His unique blend of skill and depth help him lead the team in GMPP ('goosebump' moments per project).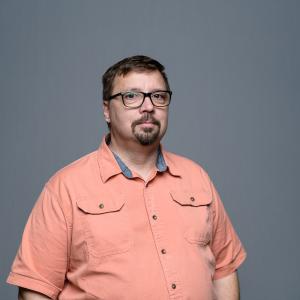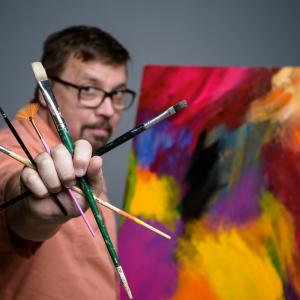 Gary Nauman
Senior Graphic Designer
Alma Mater: Montserrat College of Art
When 2100 needs an idea, Gary's dazzling creative mind has come to the rescue more times than anyone can count. He's never been one to sit still for long—whether it's painting, animating, linocut printing, or even those five days he spent deep in the Amazon jungle. But what keeps him with 2100 is seeing how art and design help students engage with, and ultimately be transformed by, the good news of Jesus.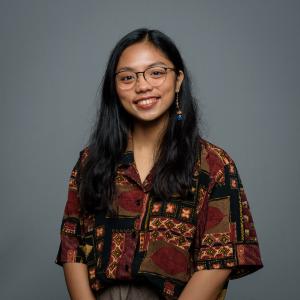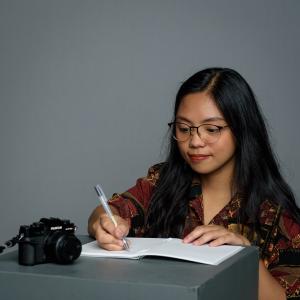 Hannah Keziah Agustin
Social Media Content Coordinator
Alma Mater: University of Wisconsin-Whitewater
Hannah's childhood in Manilla, Philippines didn't prepare her for Wisconsin's harsh winters. But her propensity for stopping in the middle of the road to watch grazing cows makes her a Wisconsinite nonetheless! At the University of Wisconsin-Whitewater, Hannah wore many hats: Bible study leader, art exhibit curator, and worship coordinator. Pretty impressive, we know. Whether she's writing beautiful poems that touch your soul, or destroying you in a game of Ultimate Frisbee — our newest team member is as dynamic as they come!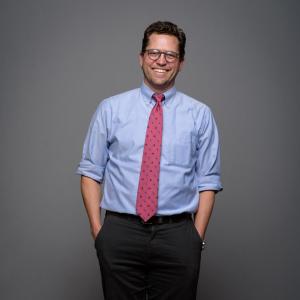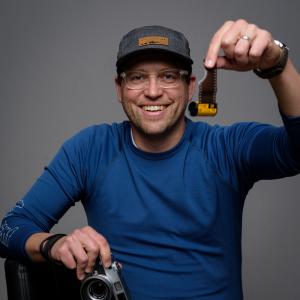 Adam Jeske
Vice President of Communications
Alma Mater: University of Wisconsin-Madison, Eastern University
Anyone who knows Adam for longer than five minutes knows him as a person whose excitement bursts outward, infused with passion and humor.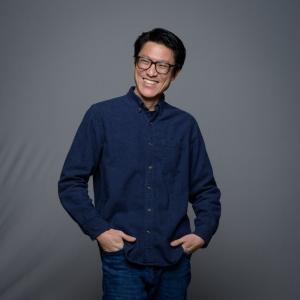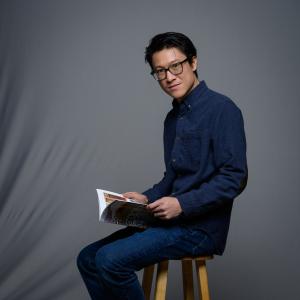 Frank Fu
Web Developer I
Alma Mater: Shiyuan College of Nanning Normal University
To have a life goal like "taste every fruit in the world", you have to love thinking big—and that's exactly what Frank does for 2100. The bigger the question, the more interested Frank gets, which is why he loves building digital technologies can serve God's kingdom on campus. A father of two "wild boys" (his words, not ours), Frank spends his time either outdoors (hiking, rock climbing, swimming) or listening to music (classical, rock, blues, jazz)—not just thinking big, clearly, but living big too.